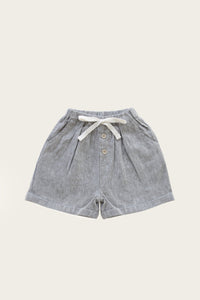 George Short - Quarry
Another exciting addition to the Jamie Kay Family our Linen Cotton Blend
55% Linen/45% Cotton
We source only the finest quality Linen/Cotton to ensure we are providing your child with nothing but the best.
The linen is made from certified European Flax, grown in Europe.

Gathered waist with pin tuck detail front and back - with a rolled hem fixed in place at the side. 
Functioning pockets with non functioning waist tie  & fly button detail. 
Delicate wash in a laundry bag.
SIZE GUIDE :
1/2 Waist :  0-3m 16.5cm, 3-6m 17.5cm, 6-12m 18.5cm, 1yr 19.5cm, 2yr 20.5cm, 3yr 21.5cm, 4yr 22.5cm, 5yr 23.5cm 
Outer Leg Length : 0-3m 22cm, 3-6m 23cm, 6-12m 24cm, 1yr 25cm, 2yr 26cm, 3yr 27cm, 4yr 28.5cm, 5yr 30cm
Please note we have a measurement tolerance of +/- 1.5cm on all of our garments.
For the most accurate garment colour please refer to the flat web image on a desktop computer.